GET YOUR BIRTHDAY BONUS AT WOLVERINE!
JUST TELL US ITS YOUR BIRTHDAY AND GET 250 PAINTBALLS FREE!
Make it a Party with a...............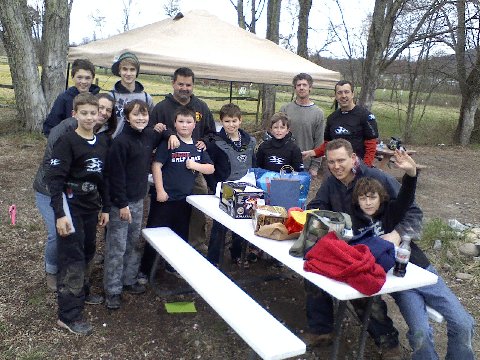 PARTY PACK
6 ADMISSIONS - 6 RENTALS - CASE (2000) PAINTBALLS - FREE AIR REFILLS
$180.00 +tax
EXTRA PLAYER FIELD FEE FOR ONLY $10.00 / RENTAL GEAR PER EXTRA PLAYER 10.00
This Package uses standard .68 caliber Tippmann rental markers and is great for Groups of 6 or more players ages 10 and up. This discount package is available on regular OPEN days only. Any players over the first six can be added for only $10.00 for their field fee and $10.00 for rental gear if needed. This is our most popular package so reservations are recommended.
Reservation Suggested
Featuring Tippmann paintball Markers

EXTRA LARGE" 16in PAPA JOHNS PIZZA WITH 6 DRINKS $19.00

.50 CALIBER PAINTBALL RECOMMENDED FOR PLAYERS AGE 8 AND UP
PARTY PACK JR.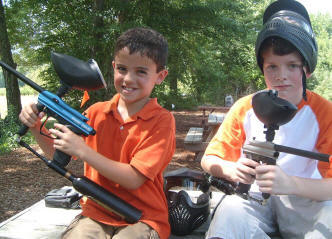 .50 CALIBER PAINTBALL HAS OVER 50% LESS IMPACT THAN TRADITIONAL .68 CALIBER
featuring Spyder and Tippmann .50cal markers
6 PLAYERS - 6 RENTALS - 2000 .50 cal PAINTBALLS FREE AIR REFILLS
The Party Pack JR is the same as our standard Party Pack, But it uses lower impact .50 caliber markers and is geared for players ages 8 TO 11. It is available on regular open days and any players over the first six can join in on the fun for only $20.00 for their field fee and rental gear. The "JR" players play as a private group with there own referee and reservations are required at least one week on advance. Parents are also welcome to play since this is one of the few activities were kids and parents can compete at the same level. This package is for players 8 and up, NO player under the age of eight will be admitted.
$180.00 +tax
ADD A PLAYER 20.00
PRIVATE GROUP REFEREE

EXTRA LARGE" 16in PAPA JOHNS PIZZA WITH 6 DRINKS $19.00
SAFETY NOTE: PARTY PACK JR. PLAYERS PLAY AS A SEPERATE GROUP AND DO NOT PLAY WITH STANDARD SIZE .68 CAL PLAYERS ON THE SAME FIELD
RESERVATIONS REQUIRED
LIMIT ONE BIRTHDAY FREE PROMO PER YEAR PER CUSTOMER 7 DAYS BEFORE OR AFTER ACTUAL BIRTHDAY - ALL PLAYERS UNDER 18 MUST HAVE PARENT SIGN WAIVER -
PARTY PACK IS AVAILABLE "WALK ON" DAYS ONLY
(ID MAY BE REQUIRED)
NO RAIN CHECKS
FOR MORE INFO CALL 828-697-4263